Info and Updates
Info and Updates
Our next info session will be 9/28, featuring our PD Dr Snow! As always, residents will also be available to answer questions. The Zoom link will be posted here when it becomes available.
---
This page may look blank now, but don't worry, we'll have plenty for you soon! As application and interview season draws closer, we will be posting information about our live Q&A sessions here as well on our Twitter and Instagram accounts. We hope you can join us and we look forward to meeting you! Any informational videos will also be posted here as they become available.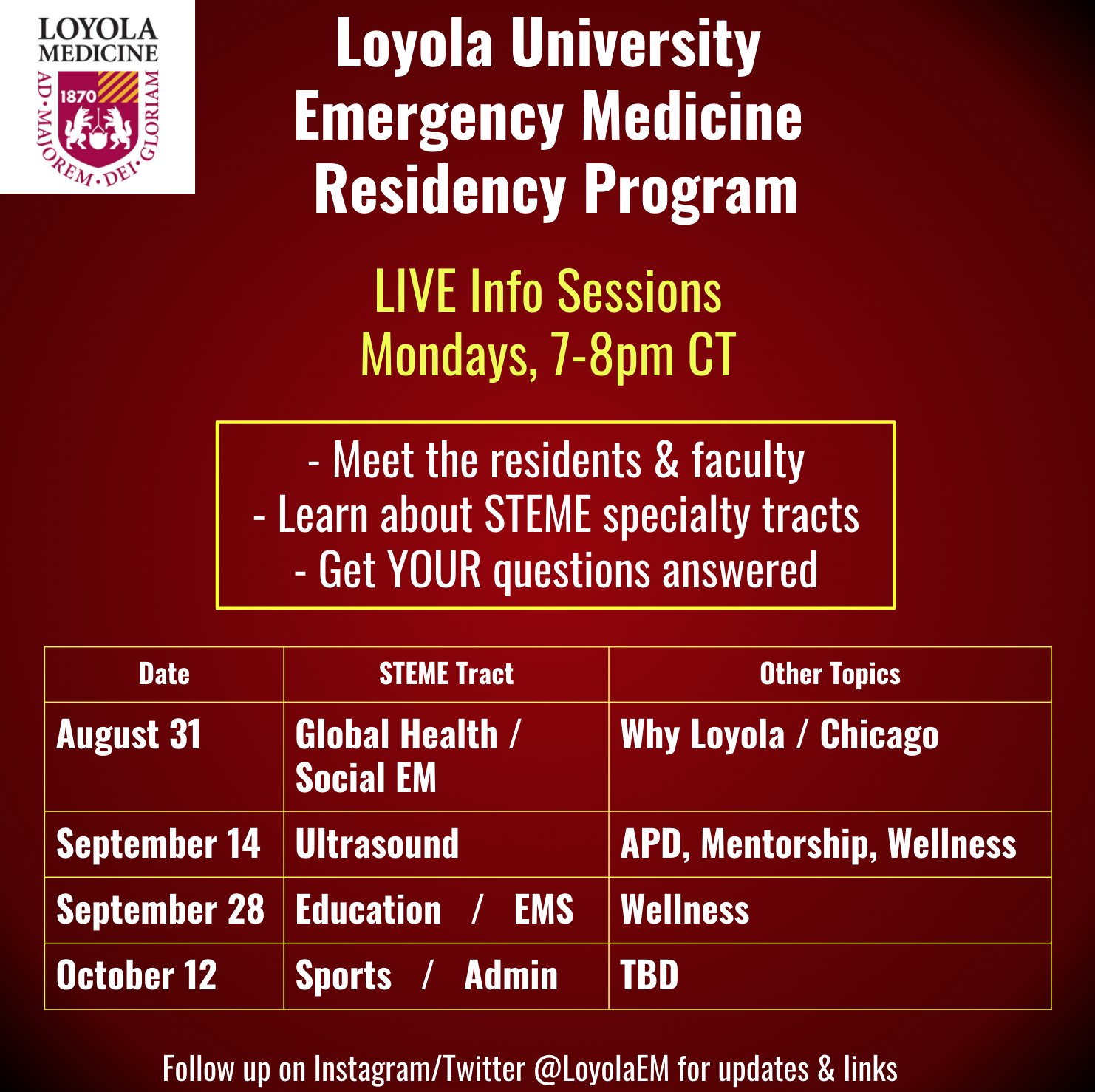 Student Clerkship
Medical Student Clerkship
Our medical student clerkship is something we are very proud to offer to visiting medical students.
Our core mission is to teach students to develop risk-stratified differentials and assessment strategies that can be applied to the acute undifferentiated patient. Students will also acquire skills of critical judgment and learn to apply appropriate basic life support skills within the context of all organ systems and multidisciplinary content areas.
We hope to expose students to the operation of the modern Emergency Department and how the provision of emergency care relates to their future roles within an increasingly complex medical system and to their responsibilities regardless of individual career paths.
The clerkship is 4 weeks in length. The main educational component of this clerkship is 11 eight-hour clinical Emergency Department shifts during which clerks are expected to see and directly staff patients who present for acute medical care. This clinical education is supplemented with four required educational days that cover a multitude of topics including quality improvement, point-of-care ultrasound training, triage and disaster medicine, toxicology, basic life support skills, and advanced life support skills. Methods of teaching include direct patient care, simulated patient care, case discussions, grand-rounds lectures, online didactic modules, online quizzes, and asynchronous video podcasts.
Students will receive mid-course and end-of-course feedback on their performance. Final grades will be evaluated based on faculty assessment of clinical performance, the successful completion of required assignments including a reflection paper and a short evidenced-based-medicine presentation, and a 100-question final exam. Grades assigned will either be Fail, Pass, High Pass, or Honors.
The below image shows the dates for our upcoming rotations. We use VSAS for all of our applications, and we very much look forward to receiving your application. For more information, see our VSAS page.
As for timing of applications, please visit our 'SSOM Visiting Students' page for the appropriate dates: https://ssom.luc.edu/regrec/students/visitingstudents/
Please note that because EM is a required clerkship for Stritch School of Medicine M4s, we won't accept applications until 1-2 weeks after the noted dates. Please email Renata Barylowicz for any questions about the clerkship (rbarylo@luc.edu).
Student/Applicant FAQs
FAQs from Applicants and Info Sessions
Coming soon!